Nokre dagar etter klubbturen vår til Bulandet, tenkjer eg litt på kor fantastisk dette øyriket er. På den eine sida av holmar og skjær, kan det vere slik;
Og på den andre sida er det slik;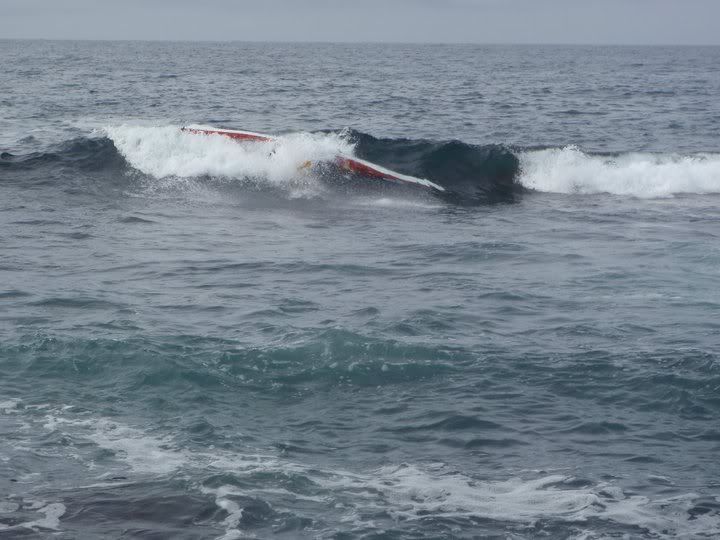 Heldigvis sat rulla denne gongen.
Store kontrastar med andre ord. Ein annan ting eg opplevde, var å bli føysa oppetter berget, då eg skulle slepe desse to ut frå brottsona;
Akkurat i det eg hadde fått feste med slepelina, kom det eit par bølgjer. Den første slengde dei to på land. Den andre slengde meg bortetter land. Kajakken treng ny gelcoat her og der, men verst var det med stoltheita. Det hjalp heller ikkje så mykje på den, at Torbjørn kom ut akkurat då, og fekk med seg heile det patetiske skodespelet.. ;-)
Eg har aldri kjent meg så hjelpelaus og liten. Har fått litt meir respekt for bølgjer som bryt mot land, ja. Men at det var ei nyttig erfaring å prøve redning i fire stjerners forhold, kan ingen kome i frå. Og i etterkant har vi forstått at det truleg hadde vore betre å få dei ut frå brottsona raskare, ved at dei hadde halde seg fast i kajakken min medan eg slepte.
Ein god dag på Bulandet, startar gjerne med ein snopetur på butikken, ut og leike seg i bølgjer (helst utan å få for mykje bank) og så avslutte med festmat i Floren (femstjerners forhold..) og noko attåt. Då kjenner ein at ein lever. Og ein set pris på at ein har gode vener både i bølgjene, og på kvelden. Og om tre månader er det Stormsamling..